My Driver.ini file. So you can race against Joey Dunlop [Honda] David Jefferies [Honda]  Mike Hailwood [Lotus] and Giacomo Agostini [Ferrari] Goes in your GPL Main Folder, but back up your original first.



ISLE OF MAN  MOUNTAIN COURSE  [ FIRST ABRIDGED VERSION ] by Jim Pearson

Incorporates a realistic overcast sky/horizon developed in collaboration with John Bradley.

Programme set also by John [BAPOM]  Many thanks JHB.


Alternate Stormy/Rainy/Dramatic Sky/Horizon.




ISLE OF MAN  MOUNTAIN COURSE  [ FIRST ABRIDGED VERSION ]                     

Alternative A.I.

Different options to adjust the speed and agression of your A.I

From Insanely quick and agressive, to smooth and comfortable.

Full details in the included readme


'Server' track.ini for VROC Hosts

Contains adjusted Pit Stalls to allow flying lap qualifying on warm tyres







John Bradley's one page detailed pdf  TRACK MAP on its own

CONCOURS MODE  A.I. [FOR THE GENTLEMAN OR LADY DRIVER [ IF YOU PLEASE : ) ]

WHO DESIRES TO PROCEED ONLY IN A DIGNIFIED AND ORDERLY FASHION }

A fast, yet safe drive on the B roads of the Isle of Man, following the Mountain Course route, with a group of famous friends, in very expensive historic F1 racing cars from 1967 that we dont really want to damage, now do we ? : )

Replacement track.ini  Back up the original first or find a replacement original in the above A.I. zip

.





ISLE OF MAN COURSE  [ FIRST ABRIDGED VERSION ] GUIDE in PDF printable format with John Bradley's one page map attached.

Written by Jim Pearson Converted to printable PDF format by John Bradley

Replacement Traffic Lights [ 4 bit ]

Generously contributed by Werner Dielen "GTV" [original textures]

and Steffen W [4 bit conversion ]



HOSTED APPROVED 3RD PARTY ADD ONS


CARE ! You need Adobe Acrobat version 4 or higher to read/print the images in this Guide

FREE download here      http://www.adobe.com/products/acrobat/readstep2.html





Isle Of Man TRAINER  Lets you start your 'out lap' at seven different locations around the Mountain Course. Instructions in the zip.

By ALANRCO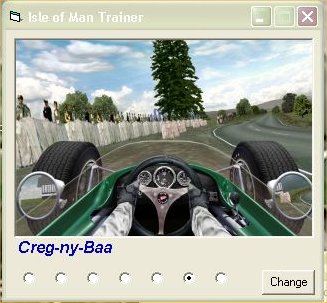 4 Bit Sky/Horizon. for Voodoo users.



Downloads hosted by SPEEDGEEZERS up to 2010..Thanks.

Now kindly continued by Bill at the GPLPS.

DISCLAIMER: The Author takes no responsibility, either express or implied, for the use of these files.These are not Papyrus products..

Alternate Programme cover featuring Ken Murray




Steffen W's Lite add on with options for smaller sized textures and corrected 3do classifications to allow switching some objects off in game/mirrors using the Graphics Options Menu in game.

Instructions in Zip




John Bradley's

IOM Poster       go here