Isle of Man Mountain Course for GPL consultant for Course Routing and Realism

KEN MURRAY is a MOTORCYCLE ROAD RACER with years of experience successfully racing at the Isle of Man in both the Manx GP and the Isle of Man TT.

He also now drives GPL.

He was kind enough to offer his extensive knowledge of the real Isle of Man Mountain Course to assist me to make this replica GPL layout as realistic as possible. Ken and I have spent a considerable amount of time discussing the finer details of Course routing, elevations and the placement of the major bumps and jumps. All of his suggested improvements/refinements have been incorporated.

The end result of this collaboration is, I believe, a much more realistic driving experience for the GPL community.

Accordingly, we all owe Ken our thanks for his most valuable contribution to this project in the mature stages of Course refinement.

Here is Ken's record over the Isle of Man Mountain Course, images of him racing there,  his own summary of his riding career and his impressions of this GPL version of the TT Course.

KEN MURRAY'S RECORD

ISLE OF MAN MOUNTAIN COURSE

KENNETH MURRAY  RESULTS

TT 1992, Ultra Lightweight 

Posn No Rider Name Machine Time Speed

19 - Kenneth Murray

Honda

1.32.22.6 98.02

TT 1991, Junior TT 

Posn No Rider Name Machine Time Speed

25 - Kenneth Murray

Yamaha

1.28.57.8 101.78

TT 1991, Ultra Lightweight 

Posn No Rider Name Machine Time Speed

RET  - Kenneth Murray

Honda

  0.00

TT 1990, Supersport 600 

Posn No Rider Name Machine Time Speed

21 - Kenneth Murray

Yamaha

1.28.08.6 102.73

TT 1990, Junior TT 

Posn No Rider Name Machine Time Speed

21 - Kenneth Murray

Yamaha

1.27.30.0 103.48

MANX GP

KENNETH MURRAY  RESULTS

MGP 1989, Junior 

Posn Rider Name Machine Time Speed

10 Kenneth Murray

Yamaha

2.13.19.8 101.87

MGP 1989, Senior 

Posn Rider Name Machine Time Speed

26 Kenneth Murray

Yamaha

2.11.09.8 103.55

MGP 1988, Junior 

Posn Rider Name Machine Time Speed

14 Kenneth Murray

Yamaha

2.17.31.4 98.76

MGP 1988, Senior 

Posn Rider Name Machine Time Speed

27 Kenneth Murray

Yamaha

2.13.12.2 101.97

MGP 1987, Senior 

Posn Rider Name Machine Time Speed

25 Kenneth Murray

Suzuki

2.18.06.4 98.35

MGP 1986, Senior 

Posn Rider Name Machine Time Speed

30 Kenneth Murray

Suzuki

2.22.35.0 95.26

MGP 1986, Junior 

Posn Rider Name Machine Time Speed

RET  Kenneth Murray

Yamaha

  0.00

MGP 1985, Newcomers Junior 

Posn Rider Name Machine Time Speed

RET  Kenneth Murray

Yamaha

  0.00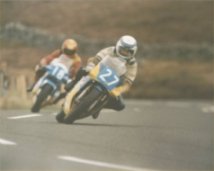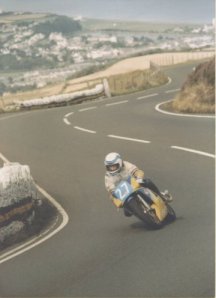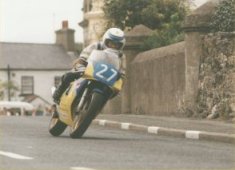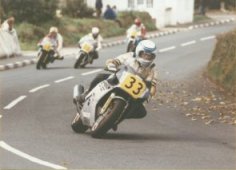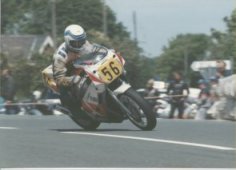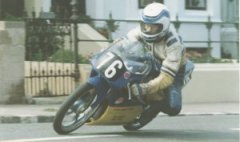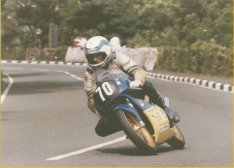 KEN MURRAY

RACING [AUTO] BIOGRAPHY AND VIEWS ON THIS GPL TRACK

"My first race was in 1981 riding in the 250cc Production Class on a Suzuki X7. Only did a handful of meetings, travelling in a mate's pick-up truck. Just wanted to see how I took to it. Really enjoyed it but the bike was outclassed by the dominant Yamaha LC's of that era.

In 1982 purchased a little Honda 125cc pukka racing machine. Much more enjoyable than my production bike. Continued up the learning curve and started to regularly finish in the top three at local club meetings. Kept this bike into the 83 season but a house purchase at the time (God did I get my priorities wrong!) forced me to sell up and take a short break. Bought a more up to date 125cc Honda at the start of the 84 season and continued with more of the same. Had this one tuned by a so-called expert and had nothing but trouble with it the whole year.

By 1985 I was chomping at the bit for a go across in the Isle of Man. There was no 125cc race at that time so I purchased a Yamaha TZ350. Wow!! If I'd been enjoying my racing before I was in heaven now. Damon Hill was racing one of these at about the same time. Never came up against him myself but he has been quoted as saying he had to get to Formula 3000 level in car racing before he got anything like the thrill of riding his TZ Yamaha. The power band was very narrow but when you hit it the howl of the expansion chamber exhaust and the instant acceleration pushing you back into the seat hump was a drug you wanted more and more. The TZ was taken across to the Isle of Man for the Manx GP (Amateur TT) in September. I was entered in the Newcomers Junior race. The weather was atrocious during practice week and I don't think I completed a lap on completely dry roads. It was always raining somewhere around the 37 ¾ mile circuit. To cap it all the bike only got as far as Union Mills on the first lap of the race before it seized. It's to long a story to go into but this was caused by the water pump drive gear breaking up. Nevertheless I was bitten by the bug.

I returned the following year with the Yamaha again and also a Suzuki RG500 provided by a local sponsor, Tony Walsh. Weather was a bit better this time and enjoyed eventually being able to learn the circuit properly. Bad luck hit again with the 350 when the gear lever broke on the third lap of the six lap Junior race exiting Ramsey. Tony's Suzuki got me to the finish of the Senior race though and a 100mph average lap was recorded on my final tour.

In 1987 Tony totally overhauled the RG500 and I concentrated on this bike with my Yamaha being laid up for the time being. On the mainland I managed to win the local North East Centre 1300cc Championship. Over on the Island at the Manx GP again I had been going well in practice, managing to creep into the top 10 in some sessions. However in the final session I lost all drive and we subsequently discovered the primary drive gear had failed. We did get it put back together for the race but my confidence was totally shattered and I virtually toured around in fear of a gearbox seizure. It did get me to the finish again though and I think my lap speeds were up to 103mph average now.

In 1988 I was back on the 350 but we also took along Tony's road bike, a Yamaha FZ750. This was only slightly modified with a racing exhaust and up rated brakes. We eventually got the 350 to finish a race and I came in 14th in the Junior (350cc) event. I was a bit further back in the Senior race on the FZ where a wrong tyre choice caused severe handling problems.

In 1989 I decided this would be my last MGP before moving on to the TT. Again we took the trusty 350 and this time Tony provided a Yamaha FZR1000 for the Senior event. The 1000cc bike was a missile. I wasn't really up to muscling it round the Mountain Course, being a mere 9 ½ stone wet through, but I still managed to get it round at an average of 106mph. I was also going well on the 350 and finished 10th in the Junior.

1990 and on to the TT. The TZ350 was still going strong and I bought my own Yamaha FZR600 for the Supersport event. I really enjoyed being in the company of the great Joey Dunlop and the likes out on the course. During one session I had completed one lap and was continuing through the start finish to start my second and I noticed a rider waiting to join on the entry slip road. It was Joey and I was as nervous as hell thinking he was behind me somewhere and that he would come flying past at any moment. I sped out through Braddan Bridge, Union Mills past the Crosby and the Highlander and still no one came past. I eventually decided he must have had machine trouble and had pulled in somewhere. I began to relax then just as we approached Barregarrow he sailed gracefully past without any fuss. I could still see him as we entered Kirk Michael so I was dead chuffed I'd stayed with him for at least two or three corners!!! It wasn't long before he was out of sight though. I finished 21st in both events, it was a lot harder now I was in with the big boys!

1991 saw the birth of my first child, Laura. I did return to the Isle of Man that year and the year after attempting to win myself a coveted replica trophy (silver and bronze miniatures of the winners Mercury God of Speed trophy, awarded to those finishing within a specified percentage of the winners time). I had dropped back to the 125cc class in my old age but I think the psychological impact of my parental responsibilities meant I didn't feel comfortable and my times suffered. After 1992 I decided to call it a day.

I still dabble a little. I have competed occasionally on short circuits in the intervening years and I do 'track days' on my Ducati 996. However I mostly have to get my racing kicks from GPL in VROC. But just to let those who have not experienced it know, you can't beat the real thing guys.

Some comments on Jim's Isle of Man track.

I think Jim was a little nervous when he allowed me to drive one of his earlier Beta's, knowing I had first hand experience of the real circuit. He need not have worried; I was mightily impressed from my very first lap. Since that first run Jim has tweaked the layout from comments made by myself and from his own desire for detail. It really is an impressive simulation of the real TT Mountain course, especially given his restrictions regarding circuit length. I particularly like the Cronk-y-Voddy straight and 11th Milestone section, which just feel so good when you get it right. Quarry Bends is another favourite and he only recently revised the bottom of Barregarrow, which now fully replicates the terrifying drop and close your eyes kink at the bottom. I hope you all enjoy driving the track and can appreciate the skill and bravery required to race this circuit in real life."

TT 1990 SUPERSPORT 600 YAMAHA

             SULBY BRIDGE

1989 JUNIOR MGP YAMAHA 350TZ

       LEAVING BALLAUGH

    1989 SENIOR  MGP

YAMAHA 1000 GINGER HALL.

  TT 1990 ULTRA LIGHTWEIGHT 

    HONDA 125  WHITEGATES

  TT 1992 ULTRA LIGHTWEIGHT 

    HONDA 125  WATERWORKS

1989 JUNIOR MGP YAMAHA 350TZ

               GUTHRIES

1989 JUNIOR MGP YAMAHA 350TZ

               BRANDYWELL

CLICK ON THUMBNAILS FOR LARGER IMAGES