My thanks to Stefan Roess for hosting the main track Downloads



Manx Flag for your "Best Laps" Screen. Instructions in this small zip file.



Pace notes sounds re-recorded in German by Stefan Roess





THREE RELEASE VIDEOS       Showing Options Manager in operation, TV Camera Lap with different car sets, and  Brabham BT24 lap in cockpit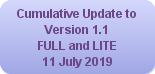 NEW For very powerful systems only. See included Readme.Includes all post 1.1 Version graphics fixes including some new ones made 11 July 2019 from the above Cumulative Update download.





Pace notes sounds re-recorded in French by db312